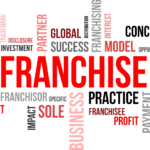 There are over 750,000 franchise units operating in the United States from over 4000 different Franchise companies.
That is A LOT of Franchise owners. That got me thinking, What do successful franchise owners have in common with one another?
Here are 4 things we have found over the past 18 years that most successful franchise owners have in common:
1. Ability to follow a proven system & process
You really need to buy into the idea of following a proven process & system when you open a Franchise. One of the main reasons you would buy a Franchise is to gain access to that company's proven system of operation, name brand, processes, training & support.
If you can't follow a proven system of operation then why would you buy a Franchise?
2. Great Leadership
A lot of people talk about being a good manager. Managing people is different than leading people. If you really need to manage people all the time you have to think of whether or not you hired the right people. Leadership is having everyone's best interests in mind, the employees, the customers, you, the company etc…. Being able to lead your business is different than managing employees. Both are necessary but one can make you a GREAT franchise owner.
3. Able to learn
You can't be a know-it-all when you open a Franchise. You will make some mistakes, but the idea of owning a franchise is that you don't have to keep getting it wrong until you get it right. We all have preconceived notions on how some things should be done in business. When you buy a Franchise make sure to ask for help, listen & learn. They have done it already and you haven't. Learn from what they already know.
4. Willing to take a risk
Opening a Franchise is a risk. One of the reasons someone would open a Franchise is to reduce that risk, but opening a Franchise doesn't eliminate the risk of a new business, rather, it reduces the risk to an acceptable level.
As a new Franchise owner you still have some risk when you open a franchise. Most Franchises offer a faster startup time, initial and ongoing support to help you get open & succeed long term and they usually know what needs to be done. They also know when certain things need to happen when opening a Franchise.
If our article caught your interest, or the idea of opening a franchise excites you, please reach out to us via the form below so we can talk.
We'd love to hear from you!