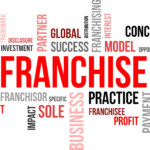 With hundreds of thousands currently in business right now, franchises are everywhere and can be found across the globe. With so many successful franchise companies, there has to be some pretty significant advantages to owning a Franchise. After some research, our team compiled a quick and easy list of some of the biggest benefits. Here are 7 reasons why starting a franchise is better than going alone.
The first reason is being able to tap into a "proven system". When it comes to the world of business, it can be difficult to make the right decision, (and very easy to make the wrong one). Often times, owners need to experiment with their business at one time or another. If an owner chooses poorly, they could lose countless thousands of dollars. That is where franchises come in. Franchises do a majority of the exploring ahead of time, allowing owners to reap the benefits, without suffering the consequences. Think of it like an instruction manual that outlines what has and hasn't been tried yet, (along with the level of success).
The second reason to start a franchise are the processes that franchisors can provide. Much like with the proven system, these processes can take countless hours, weeks, years, and dollars to create, which could cost an owner the very success they are seeking. Franchises can provide the benefit of well-fleshed out processes without the drawbacks of taking the time and money to form them, increasing a business's chance for survival.
The third reason to start a franchise is buying power with vendors. While this may not seem like a major benefit at first glance, if you look a little deeper, it becomes quickly clear that it's simply undervalued. When it comes to owning a franchise business, the investor has the right to all the benefits that the brand can give them. This means that franchisees can take advantage of exclusive agreements and/or contracts with business partners that could save them up to 35% or more on costs.
The fourth reason to start a franchise is national brand recognition. Much like with the buying power with vendors that franchise owners get for being a franchisee of a business chain, national brand recognition is a similar phenomenon that applies to Franchise business owners. Scientific studies have shown that customers are more likely to buy products that are produced by a brand that they are familiar with, (even if it costs more than the generic brand). By being part of a franchise, business owners can utilize the benefits of being recognizable, even if they, themselves are fairly new to the business world.
The fifth reason to start a franchise is startup assistance. Many underestimate just how much work goes into setting up a business. In fact, the work load is more than enough to overwhelm most people. Franchises can help lighten the load to a more manageable level, allowing for a much smoother and quicker transition into the business world.
The sixth reason to start a franchise is the ongoing support that franchisors can provide. Owning a business isn't easy; some might even call it harder than setting one up in the first place. Issues are going to come up sometime, and when that time comes, it's nice to have someone that you can lean on that has experience. Similar to the startup assistance that gets offered to franchisees, franchisors also often include ongoing support for finances, technological difficulties, and even general business owning advice.
Finally, the seventh reason to start a franchise is being part of a team. Let's face it. When it comes down to it, each person can certainly have an impact; however, there are simply limitations to what one person can do on their own. Whenever it comes to trying to accomplish bigger goals, a team of people will always get more done. With franchises, businesses can have a much bigger, more wide-spread impact than if they were on attempting to fulfill their goals on their own. Franchises can make dreams possible in ways that nothing else can.
No franchise is perfect; however, there is always one that is best for you. Every franchise has its benefits and advantages, and it's important to review all options when it comes to deciding which franchise to invest in.
If you would like a free no obligation consultation, please complete the form below. We would be happy to call & discuss the possibility of franchise ownership.
If our article caught your interest, or the idea of opening a franchise excites you, please reach out to us via the form below so we can talk.
We'd love to hear from you!