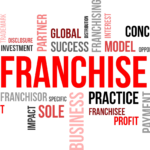 AAMCO, one of the nation's first franchise systems, has built a well-deserved and enduring reputation for trust with the American public over the past 50 years. While AAMCO is established as the worldwide leader for transmission repair, the rise of the Internet has presented opportunities for AAMCO to connect with a new generation of consumers and drive AAMCO's legacy forward for the next 50 years.
With this goal in mind, AAMCO rolled out its New Customer Experience initiative, a multi-tiered strategy designed to make the in-store experience more attractive to consumers and more profitable for franchise owners.
"We wanted to position our brand to win in the new economy to ensure that AAMCO is successful for the next 50 years," says Brett Ponton, CEO and President with AAMCO. "We wanted to reengineer our in-store experience for consumers to ensure that our customers felt like they had options and choices for services on their vehicle."
Read more here: http://aamcofranchises.com/blog/aamco-franchise-launches-new-customer-experience/
If you would like learn more about opening a franchise, there are multiple ways to reach us HERE.