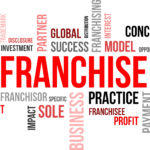 Thinking about starting your own franchise business? Want to know how Franchises work? This article should give you the basics on how franchising works. A Franchise is a system of operation that follows a proven business model. There are over 3000 Franchise companies across 100 categories. Many people think that food franchises are the only businesses that are available, however food franchises only account for about 8% of all Franchise systems.
There are franchises in categories like In Home Senior Care Franchises, Fitness Franchises, Hair Care Franchises, Garage Floor Coating Franchises, Advertising Franchises, Small Business Coaching Franchises, Auto Repair Franchises & 100's more.
Keep in mind, most of the time the Franchise company is not looking for the owner of the Franchise to be the one that is providing the actual service to the customer. For example, if you were to buy a Garage Floor Coating Franchise you wouldn't actually be applying the coatings to the garage floor, you would hire the people to do that. Same with Auto Repair Franchises, you wouldn't actually fix the cars, you would hire the technicians that would fix the cars.
Most Franchise owners work ON the business, not IN the business. That allows you to focus on marketing, advertising, sales, business operations etc…
If you operate this way you are usually able to focus on growing your new Franchise business versus working in the franchise business.
There are a few Owner/Operator type Franchises out there, but most are looking for someone to own the business not work in the business.
When it comes to the investment required to buy a Franchise there are TONS of options out there. There are Franchises that require as low as $30k to invest and as high as millions to invest. Typically most Franchises require $50k liquid capital, good credit and some net worth.
Basically they want to make sure you aren't living in your car and that you can support yourself while your new Franchise business is ramping up.
There is financing available for some franchise businesses, however, keep in mind, there are ZERO options for a no money down situation. There is no source for 100% financing. You will ALWAYS need to invest some of your own money into the new business.
Franchise companies usually provide startup assistance, training & ongoing support. You get access to their systems, processes, technology, brand name, experience etc…
Being part of a Franchise business lets you tap into the collective knowledge & system of a proven business model. You get to start on 3rd base versus starting at home plate. A good franchise system will get you there faster, more efficiently and with a lower risk.
There are usually 2 types of Franchises. Product based & Service based. Both have their pros & cons and through your due diligence process you can determine which type is the best fit for you.
The due diligence process is quite involved and does require you to commit some time to properly research the Franchises that you might be interested in. Keep in mind, most of the information you read online about a Franchise is designed to get you to contact them. That's right, most of what is out there on the internet is just marketing information to make the Franchise sound good so that you call or email the Franchise company.
One of the best ways to research a franchise is to use a Franchise Consultant. Many people don't know what a Franchise Consultant is or how that works. I'll explain how it works and at the bottom of this article there is some contact information for an experienced Franchise Consultant.
Basically a Franchise Consultant is a match maker. They typically work with 100's of the top Franchise companies kind of like a recruiter works with different businesses. The Franchise Consultant will talk with you, ask you some questions, have you fill out a questionnaire & discuss different options. They will take your information and match you up to a few Franchise business models that fit what you are looking for in a business.
For example, if you wanted a Franchise business that had a low number of employees then you probably wouldn't want a food Franchise. If you wanted to deal with businesses instead of consumers then you probably wouldn't want an auto repair Franchise etc…
A good Franchise Consultant can walk you through the due diligence process and help you identify the Franchises that fit your criteria. Think of a Franchise Consultant like the eharmony of Franchising. They match you up with the Franchise companies that are looking for you. The Franchise companies pay the Franchise Consultant, there is no fee to you for their service.
In a nutshell Franchising is a system of operation that follows a proven business model. If you would like to start exploring the possibility of owning your own Franchise business you can fill out the form below and a Franchise Consultant will contact you for a no obligation free consultation. Happy hunting!
.
If our article caught your interest, or the idea of opening a franchise excites you, please reach out to us via the form below so we can talk.
We'd love to hear from you!