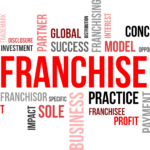 Franchising is a great way to build a business. A good Franchise can help you get it right without having to get it all wrong first. Here is an article on how to open a Franchise.
1. What is Franchising?
A franchise is an expansion model where the creator of a business licenses or allows you to use their trademarks & system of operation. The franchise agreement governs the method for conducting business between the two parties. Although forms of franchising have been used since the Civil War, enormous growth has occurred over the past 15 years. Industries that rely on franchised businesses to distribute their products and services touch every aspect of life, from Automotive to Home Services, from Financial Services to Real Estate.
Simply put, a Franchise is the right to operate a business that someone else created, they are allowing you and helping you recreate what they have already done. This is known as product/trade name franchising. The franchisor usually provides a full range of services, including:
Site selection
Training
Product supply
Marketing plans
Advertising
Financing
2. What are some of the Benefits of Franchise Ownership?
There are a number of aspects to the franchising method that appeal to prospective business owners such as:
Reduced risk of opening a business.
Lower startup costs.
Faster Ramp up periods.
Lower break even point.
Easy access to an established product.
A proven method of operating a business.
Statistics from the SBA and the U.S. Department of Commerce show a significantly lower failure rate for franchised businesses than for other business start-ups. The franchisee purchases not only a trademark, but also the experience and expertise of the franchisor's organization.
Purchasing a Franchise does not guarantee success. A Franchise does not replace the effort you have to put into a new business, you still need to grow your new Franchise business.
Do not buy a Franchise if you are not prepared to commit the proper amount of time, money, energy & resources that every new business requires.
Typically a Franchise enables you, the "franchisee", to operate a business under the name of another company. You pay an up front "Franchise Fee" and an ongoing "Franchise Royalty".
In return he franchisor may help you find a location for your outlet; provide initial training and an operating manual; and advise you on management, marketing & personnel. Most Franchise companies offer ongoing support as part of your Franchise Royalty payments.
3. What should I consider when choosing a Franchise?
Like any investment, opening a Franchise does carry some risk. You should carefully research a number of factors including demand for service or product, competition, franchisor's background, level of support, total investment, potential ROI & more.
Your needs & wants are different than other people. Do NOT make your decision based off what everyone else likes, needs & wants. You need to properly research any Franchise business you want to open. Don't bury your head in the sand, talk to others of course but you need to make your own decision based on your needs & wants, based on what you think you would be successful at doing every day.
While your brother, uncle, father are great people in your world they don't live your life, they aren't married to your wife, they don't have to provide for your family. Only you can make that decision. Don't let others control your decision, let them give you feedback. Ask them questions like, Do you think I would be good at X or What do you think are the challenges I will face as an owner of an XYZ Franchise?
Take that feedback, research the franchise business, talk with existing Franchise owners in that system and make an informed decision based on facts.
4. How much does it cost to start a Franchise?
Every Franchise requires you to invest some of your own capital into the new business. Contrary to popular belief you can not finance 100% of a new Franchise startup. There are no SBA grants for Franchises. Typically you will need good credit and 15% to 20% of the total investment to qualify for a Franchise loan from a bank.
For example, if the total investment of a Franchise is $150k you would need $30k-$40k of your own money to invest prior to any financing.
Most don't know this but you can use your 401k/IRA to start a franchise without penalty or taxes. There are a few things you can do with your retirement funds without tax & penalty and opening a Franchise is one of them.
5. What are the next steps?
There are a few things you should do before starting to research Franchises to open. First, figure out your timeline. It will take 2-3 months to properly research franchises. So about 2-3 months before you are ready to purchase a Franchise is when you would start researching Franchises that are available in your area. It doesn't make sense to find an available Franchise if you aren't actually ready to consider purchasing it in 2-3 months.
Get your financials in order. Realistically you shouldn't even think about researching opening a Franchise if you don't have at least $30k-$40k sitting in the bank that you are willing to invest if you found the right Franchise.
Talk to your spouse, if he/she isn't on board with you starting a Franchise business then have a candid conversation with them about why you would make a good franchise owner, why you want to open a Franchise, what types of Franchises would be a fit for your lifestyle etc…
Talk with a Franchise Consultant. A good Franchise Consultant provides a free Franchise Matchup service to potential Franchise buyers. They can help you find franchises that meet your needs & wants. They will usually help you save time & money on the research process. Franchise Consultants will also focus on the business model & what you want to do every day, that will help you find franchises that you may not even know exist.
Are you interested in exploring Franchise ownership? Feel like you would make a good Franchise owner? Are you financially qualified? Fill out the form below & receive a Free Franchise Consultation service with one of our Franchise Consultants.
If our article caught your interest, or the idea of opening a franchise excites you, please reach out to us via the form below so we can talk.
We'd love to hear from you!