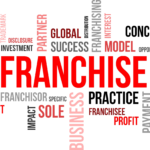 If there is one question that we get asked more than any other it is "What is the best franchise to buy?"
As a Franchise owner you wear many hats. You oversee the business, you manage the manager, you watch the numbers, you steer the shop so to speak. A Franchise is a system, a business model that follows a proven operation that can be duplicated at another location. When you buy a Franchise you are buying into that system.
Brand, buying power, training & support are some of the things you get when you buy into a Franchise business. They help you get there faster & with less mistakes than if you tried to open a business on your own.
Typical investment into a Franchise business will range from $50k to $75k of your own money prior to financing. If you have good credit most banks will require you invest 20-30% of the total to qualify. Example would be $300k total investment, you would invest $60k-$90k of your own money and the bank would finance the rest.
There are over 4000 different franchises available in more than 30 categories. While it may be hard to sort through all of that information the answer to the original question is actually quite simple.
What is the best franchise to buy in 2018? The answer may surprise you but it is really how we feel. The answer is: The one that fits your goals & financial situation while operating the way that you want to operate. It is really that simple.
We believe the way an owner operates the franchise day to day is more important than the name on the sign. What you are going to be doing every day is really one of the key things to consider when looking at opening a Franchise business.
Starting a Franchise can help you get there sooner with less mistakes but Franchises do not replace the effort. You still need to steer the ship and make sure the employees are rowing in the right direction.
Buying a Franchise helps reduce the risk of owning a business but it does not eliminate all risk. There are still risks in starting any business.
Looking at the track record of a Franchise is important and performing the proper due diligence is critical to finding the right franchise that fits your needs & wants while meeting your financial goals.
If you would like a free, no-obligation consultation, please complete the form below. I would be happy to call & discuss the possibility of franchise ownership.
If our article caught your interest, or the idea of opening a franchise excites you, please reach out to us via the form below so we can talk.
We'd love to hear from you!