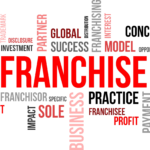 A look at the humble beginnings of some of the biggest names in fast food, from KFC to McDonald's.
Every iconic franchise began somewhere. Every one started with a single store opening its doors to a public that had never heard of it and didn't know what to expect. These entrepreneurs had no idea what they were launching—and no inkling that their concept would take the world by storm.
What did these original outlets look like? What do they look like now? Some of the world's biggest chains have preserved their first stores so customers can get a look.
The colonel's home in Corbin, Ky., Harland Sanders launched a gas station, motel and 2,900-square-foot restaurant called the Sanders Court and Café in 1940. The restaurant included a model motel room "to convince the lady of the family that his motel would be a good place for her family to stay," says Steve Dearing, senior vice president of design and construction for JRN Inc., a KFC franchisee with 154 stores in 11 states, including the Corbin restaurant. The dining room was also used for wedding receptions, and Mr. Sanders offered on-site catering.
Read more here: http://www.wsj.com/articles/iconic-franchisesthen-and-now-1479697681?tesla=y
If our article caught your interest, or the idea of opening a franchise excites you, please reach out to us via the form below so we can talk.
We'd love to hear from you!