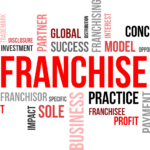 First off, let's identify what a Franchise is. A franchise is a business that you can buy that allows you to use the pre-established business model and products or services. By paying a fee to the franchisor (the owner of the license for the business model and products of the franchise), you are purchasing a license from the franchisor that allows you to open a franchise with the provided business model and products. Many do not realize how many franchises that can be found near them. Franchises can be found all around you. Common examples of franchises include Aamco, McDonalds, Starbucks, and even UPS. Franchises span all different types of business. From food to car maintenance, and advertising to senior care, franchises can be found pretty much anywhere.
What is the best franchise? Well, the true answer is that the "best franchise" is relative from person to person. For one person, the best franchise is different than what it would be for another. The better question to ask is 'what is the best franchise for me?' To answer this question, ask yourself about your goals, what you hope to accomplish, and what you desire to do in your day-to-day work day. If you desire a franchise that you are largely hands off with, don't buy one that requires daily participation.
Franchising is both a great way to enter the world of entrepreneurship, and an excellent stepping stone for investors to achieve their more long-term goals. Franchisors often provide franchisees with tons of resources in order to help them manage their franchise; these resources often include things such as assistance or advice with advertising, products, services, specials, employee management tips, and much more. No single franchise is better than the others; however, there is always one that is best for you. Every franchise has its benefits and advantages, and it's important to review all options when it comes to deciding which franchise to invest in. If you would like a free no obligation consultation, please complete the form below. We would be happy to call & discuss the possibility of franchise ownership.
If our article caught your interest, or the idea of opening a franchise excites you, please reach out to us via the form below so we can talk.
We'd love to hear from you!