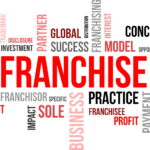 Why do franchises fail? Before answering this question, let's first review what a franchise is.
A franchise is simply a way that businesses decide to expand their business via a licensing agreement.
A franchise is made up out of two type of people, the franchiser(s) and the franchisee(s). In exchange for a franchise fee and/or royalty fee the franchisee receives from the franchiser a proven business model, predetermined products and services, the brand, and pre-made advertising materials and strategies.
A franchise agreement is more than just a license, however – it's a mutually beneficial relationship between franchiser and franchisee. While some feel that the price of the franchise license can be overly pricey for what it offers, and simply "isn't worth it", most investors know better. Think about it this way. An entrepreneur has 3 years of experience in the automotive industry working on cars. One day, this entrepreneur decides that they want to start an automotive business. This entrepreneur has two options – they can either pay the franchise fee – of let's say 30k and a 3% sales royalty – or he can start from scratch. Yes, the entrepreneur will have to pay the 30k to join the franchise, but in return he'll get all the benefits of the franchiser's hard work and sweat.
The other option means that the entrepreneur won't have to pay the franchise fee or the royalty, but will have to experiment until they find something that works. This means that they have the potential to lose tens of thousands of dollars more than what they would've paid for the franchise fee, with no support to speak of.
So if franchises are so much safer to start, then why do they fail at all? Good question. Unfortunately, the answer is quite simple: failure to follow the business model. As silly as it sounds, failing to follow the business model really is the #1 way that franchises fail. This may seem counter-intuitive – they paid all that money to have all that information at their fingertips, why aren't they using it? – but this can be caused by a variety of issues such as a lack of willingness to evolve, a lack of attention (maybe from being distracted by other businesses while in a moment of complacency), or the belief that they can "do it better".
Franchisors are usually very open to the ideas that their franchisees provide, however some might simply not be possible due to being against the company's brand or values or inadequate funds. Franchisees not only risk their license by failing to follow the franchisor's model, but also their sales from the seeming conflict of interest that they may present to potential customers.
When it comes to being part of a franchise, one of the most important duties of the franchisees is to follow the model, and if they come up with an idea to present it to the franchiser, rather than just implementing it with little to no guidance.
If our article caught your interest, or the idea of opening a franchise excites you, please reach out to us via the form below so we can talk.
We'd love to hear from you!