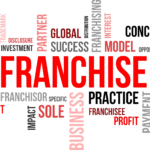 Established in 2005, Young Chefs Academy is a unique and premier children's cooking school franchise company with franchise locations in the U.S. and overseas. The YCA mission is to teach children the joy and value of cooking and to provide an interactive learning experience that gives children the opportunity to develop a life-long love for the culinary arts. Children are encouraged to ignite their creativity and satisfy their natural curiosity in a welcoming environment and to explore and experiment with acquired culinary skills in kid-friendly kitchens.
At Young Chefs Academy, they operate with the belief that each happy student they serve shares their experiences with their friends. This allows us the opportunity to help more children in our communities develop a love for cooking! At Young Chefs Academy, children not only learn a recipe or two, but a lifelong skill and the true joy of cooking. Some programs that this program provides it's students includes:
-Weekly classes
-Club memberships
-Master chefs
-Parties
-Camps
-Field trips.
This franchise requires a $55k cash investment prior to any financing. If the idea of a franchise like Young Chefs Academy appeals to you, fill out the form below so we can talk.
If our article caught your interest, or the idea of opening a franchise excites you, please reach out to us via the form below so we can talk.
We'd love to hear from you!