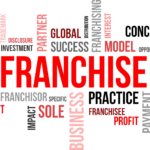 For those of you out there who like the idea of being your own boss, and are looking to start a business of your own, we're here to help. Starting a business can be scary, especially for the inexperienced or those who have a lot to lose if they fail.
The first step in starting a business includes asking yourself a series of questions. One of the main questions that you have to answer, is what business-type. The two most popular types of businesses are sole-proprietorship and franchises, (if you are unfamiliar with these two business-types, please review our article on the four main types of businesses).
Pros:
-A Proven Business Model
-Brand Recognition
-Training, Strategies, and a Support Network
Let's talk about these a bit. Let's start with the pros. As I mentioned in my previous article linked above on the four main types of business, Franchises are a proven model. Rather than having to spend countless dollars experimenting with different ideas until you find something that works, someone has already done the leg-work for you. As a result, franchises have a much higher success rate than say a sole-proprietorship or a partnership.
In addition to a proven business model, franchises also typically provide training to new franchisees, along with a free support network, and great brand recognition. Many underestimate the benefits that brand recognition provides, but this advantage can be the difference between a consumer coming to you or the mom-and-pop store down the road.
Cons:
-Royalties & Fees
-Potential Restrictions
Now, let's talk about the cons. One of the main drawbacks of franchises is the royalties and fees. Both are widely reliant on the specific franchise, and should be taken into consideration before you buy into a franchise. The other main disadvantage is the restrictions. In order to protect franchisees, some franchises will place restrictions on certain advertising methods, criteria for merchandise, and/or business strategies.
These are only some of the Pros and Cons of owning a Franchise, but these are some of the biggest ones to consider. If our article caught your interest, or the idea of opening a franchise intrigues you, please reach out to us via the form below so we can talk. We'd love to hear from you!