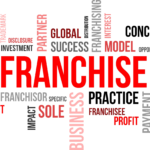 A Master Franchise is a "large" scale opportunity. A Single Unit Franchise is just like it sounds. You own & operate a single unit of a Franchise company. A Master Franchise is when someone purchases a large area with the intent to sell, open & support single unit franchises within that area.
A master franchise is a franchising contract in which the master franchisor (the owner of the brand name) hands over the control of the franchising activities in a specified territory to a person or entity, called the "master franchisee".Master franchising is a method that has been employed by most franchise systems. The operational efficiency of these systems, with their distinctly complex organizational form, benefits from increased growth rates of the subfranchises.
In general, a franchise enables a product to be dispersed across more outlets and regions, solving many geographic concerns raised by large market companies. In doing so, it allows the company to retain the economies of a large chain, while allowing for the meticulous management of geographically dispersed individual stores.
Generally, a master franchisor will grant the master franchisee, or subfranchisor, the right to third-party operations within a defined territory. And then, with respect to regional issues, the subfranchisor will assume the role of the franchisor, but they typically will not own or operate the franchise. They are removed from a direct management position. This duplication of the franchisor's role forms an additional layer of control in the general franchise system, which results in some small scale inefficiencies on the small, local scale but greatly reduces the large scale inefficiencies. Additionally, a master franchise allows the company holding the franchising permit to benefit from management talent and more and more accessible capital.
Combined, these two factors translate into almost instant penetration into the market and a competitive advantage, both of which increase system growth rates. Managerial levels and hierarchical framework exemplify one competitive advantage. By allowing the franchisor to specialize in recruiting, screening and training of subfranchisors, who then develop their area in a similar way, the overall growth rate of chains increases. Other benefits include faster development, a more comprehensive financial base, specific expansion plans, access to capital and a regular cash flow, proximity to the customer, some independence, and the ability to address the demands of the customers as well as address the local competition.
Typical investment to start a Master Franchise will range from $100k to $250k cash investment. If you are interested in learning more about Master Franchise Opportunities please complete the form below to speak with one of our Franchise Consultants with no obligation.
If our article caught your interest, or the idea of opening a franchise excites you, please reach out to us via the form below so we can talk.
We'd love to hear from you!