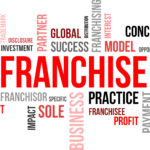 Knowing which franchise is the right fit for you can be tough at first. There are over 4000 Franchise companies out there to choose from. Everything from auto repair & hair salons to fitness & food. There are over 50 categories & 100's of sub-categories to choose from. Where do you start the search? First let's answer a few basic questions about Franchising.
1. What is a Franchise?
A Franchise is the system of duplicating a successful business model to others. Many successful business owners offer a proven duplicatable process for starting a business just like the one that they already operate.
Think of a franchise as starting out your business on 3rd base. You just need to hit a "single" to be successful and make it to home plate. Of course, you need to follow their proven system and if you do that your chance of success is much higher and your chance of failure is much lower.
A Franchise System is a way of doing business and they are usually able to help you start a business faster & for less money than trying to do it on your own.
They have already made the mistakes; they have taken the bloody noses and they know what not to do as well as what to do to increase your chance of success in starting a new Franchise location.
2. How much do Franchises cost to start?
All franchises require you to invest some of your own capital. Typically to qualify you would need to invest $50k of your own money into the business. That is the investment prior to any financing. That means you need to have that capital available to you before applying for a loan. For example, if the total investment were $150k you would need to have about $50k in cash sitting in the bank, 401k, IRA or equity in your home. If you had that $50k you could then apply for financing for the rest of the investment.
There is no way to finance 100% of a new business startup. There are no grants for starting a business or franchise. You will need to invest some of your own money into starting your Franchise, there is no way around that.
The investment amount varies from Franchise to Franchise. If you have at least $50k of your own capital to invest into the right Franchise there are 100's of Franchises that you would be qualified financially for.
3. How much can you make from a Franchise business?
This also varies from Franchise to Franchise. When you start to explore opening a Franchise business you will find some franchise companies disclose average profits while others do not. During the initial stages of the research process you can find out this information in a variety of ways. We can help point you in the right direction on determining existing franchise owner profitability.
As with all Franchises there is no way to know how much you will make since that depends on how well you operate your own business. Your success is truly dependent on how well you run your own business. Franchises are no different than any other business in that respect, you get out of it what you put into it. Franchise owners that invest the right capital, time & effort stand a higher chance of success. There are no part time business owners in Franchising. Franchise ownership requires a full time dedicated effort along with the right investment, you also need to be part of the right Franchise system.
4. What is a Franchise Consultant?
A Franchise Consultant is an individual that helps match you up with the Franchise that fits what you are looking for in a business model. Since there are over 3000 franchise companies to choose from you would be overwhelmed if you started looking at all of them.
Franchise Consultants do not charge you a fee, you pay the same fees to the Franchise company whether you use a Franchise Consultant or not.
A good Franchise Consultant will save you time, money & effort. I work with over 400 of the top Franchise companies. I know what type of business owner they are looking for and I can help match you up to several companies. If you would like a Free No Obligation Consultation, my contact info is below.
First we would talk on the phone and I would ask you a series of business oriented questions, then I would do some research on each Franchise company that fits your needs. I can narrow down the 400+ to 4-5 initial options. We then schedule a time for me to present those opportunities to you by sharing my screen.
If you like any of them we can start the due diligence process to learn more. If you don't like any of them I find out why by asking you more questions and then I can present other options that might fit.
There is no obligation and no fee for my service. If you buy a Franchise I am paid like a corporate recruiter, the 400+ Franchises that I work with have all agreed to pay me a fee to find them the right fit, but I only earn that fee from them if I find the right match. You don't pay me anything either way.
Think of me kind of like a real estate agent for Franchises, The Franchises are the houses and you are the home buyer. I find out what you want & need and then match those companies to you that fit what you are looking for in a business model.
That leads me into the answer to the initial question "What is the right Franchise to buy?" That answer is simple. The best Franchise for you is the one that fits what you are looking for as a business model.
If our article caught your interest, or the idea of opening a franchise excites you, please reach out to us via the form below so we can talk.
We'd love to hear from you!